Crowdfunding and the New Corona Virus: A Policy Tool for Crisis Times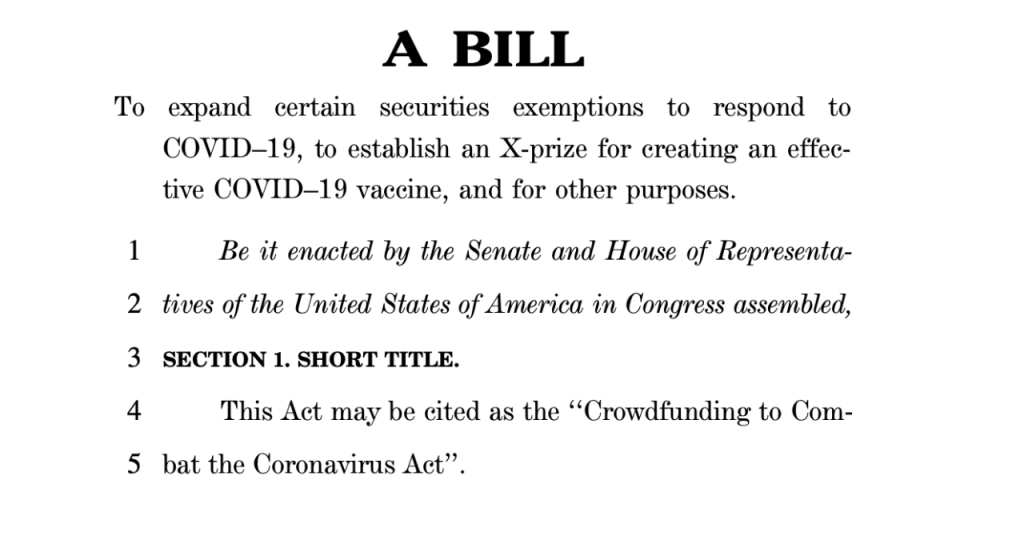 It has been two and a half months since the first reports of the new coronavirus emerged and the world is waking up to a new reality. Communities, companies and governments have to find ways to organise efficiently without social contact. Global markets have capitulated in what commentators have called a "black swan" event, a term last used in the 2008 financial crisis. That crisis was credited with the birth (or rebirth) of crowdfunding.
Crowdfunding is again proving an important tool in a crisis toolkit, starting with tackling the health crisis at the provincial, national and global levels. This time governments are using crowdfunding too, and, unsurprisingly, people will put money where their health is. In the United States, the federally-funded CDC Foundation (Centers for Disease Control and Prevention) has appealed to the public to help fund the emergency response to coronavirus through a crowdfunding campaign.
"Even with the U.S. government emergency funding package that has been signed into law, there are a wide variety of urgent demands where government support will not be available or available in time to meet all the rapidly-changing needs on the ground," – Judy Monroe, CEO of the CDC Foundation.
In an attempt to expedite the development of a vaccine, the House of Representatives' Patrick McHenry has proposed legislation that assists and incentivises start-ups and small businesses that are fighting COVID-19. The bill, dubbed the "Crowdfunding to Combat the Coronavirus Act", goes as far as removing the regulated ceilings on crowdfunding campaigns for such businesses, and introduces a $1bn prize for a vaccine. The bill can be found here.
In Lombardy, the European epicentre of the virus outbreak, a global crowdfunding campaign for a vaccine has been launched in partnership with the Francesca Rava Foundation, mobilising over €500 000 from local football club Inter Milan. Over €4mn has been raised in another Italian crowdfunding campaign launched on behalf of the San Raffaele Hospital in Milan by local celebrity couple Chiara Ferragni and Fedez.
Globally, campaigns are underway with the World Health Organisation and others are in the pipeline. These "frontline" crowdfunding campaigns for emergency health responses will doubtless be followed by secondary needs as funding shortfalls affect the real economy. For example, in Seattle, a non-profit organisation that supports foster children was forced to cancel its annual fundraising event and has turned to crowdfunding to make up the $500 000 shortfall.
Crowdfunding platforms are powerful intermediaries because they offer organisational tools that do not require high-touch interaction, all the while acting effectively at the level of individuals, communities and small businesses within and beyond metropolitan areas. Crowdfunding can mobilise funds immediately from people who care about a cause. This is critical for fast response times that other funding sources cannot offer. It can help keep small businesses alive during a combined credit crunch and negative demand shock. In countries where crowdfunding has been held back due to a lack of regulations, governments should expedite the adoption of this important tool as part of their crisis policy toolkits. Indeed, they may well need to draw upon it themselves to weather this storm.
–By Elizabeth Howard, Ag. CEO and Chair of the Board, African Crowdfunding Association